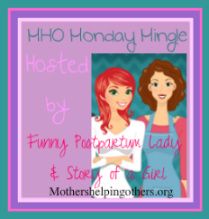 Welcome back to the Monday Mingle!
Hosted by
This weeks theme: Vacation

1. Do you take family vacations?

We try to do one major one (out of state) once a year. In state we go about every three months.

2. Did you take family vacations as a kid? If so, what is the one you remember the most?

We went to California a lot, my mom has family all over there. I did go with my church to Mexico to help re build a church.

3. What is your dream vacation, as a family, a couple or even alone?

I really want to go to Italy (family), the hubby and I are Italian. I also would love to go to Hawaii (just as a couple).

4. What is your preferred method of traveling? Ex. flying, driving, taking a train, a cruise?

I like to drive, but if its really far then I would prefer to fly. No cruise ever for this chick!

5. Have you already made vacations planned for this summer, or are you planning a "staycation"?
No haven't got anything planned as of yet. I want to go to Colorado, I was born there and wanted to go for a visit as I have not been there since I was 8. Nothing is set in stone though.
This is a blog hop, now its your turn.